David McIlroy: Legal Awards 2022
Lawyer Monthly magazine is one of the most widely distributed magazines showcasing the best talent in the legal sector. Its annual award winners are chosen for their impact and their achievements in the last 18 months.
David McIlroy won the award for mediation in Lawyer Monthly's Annual Awards 2022 because of his skills as a mediation advocate. He has used mediation as a tool to achieve successful outcomes for multiple small businesses and individuals facing up against banks and other large institutions. He builds mediation into his strategy in all cases, but especially in banking, financial mis-selling, commercial litigation and professional negligence. He knows when to mediate, how to mediate, what is achievable in mediation, and when to walk away if the deal on the table is not good enough.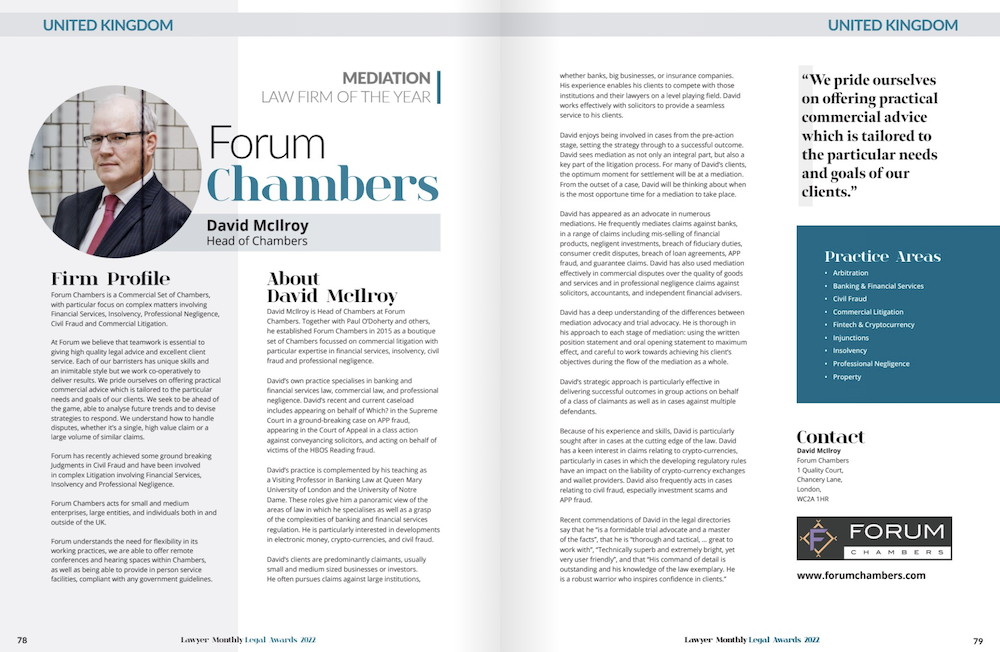 Although the outcomes of mediation are confidential: David has successfully settled interest rate swap mis-selling claims, claims against banks for poorly managing investments, claims against lenders for refusing to allow developers to draw down funds, and professional negligence claims against accountants and solicitors.
Forum Chambers is delighted with this recognition that as a set it continues to innovate, offer specialist expertise, and deliver world class litigation strategy.
You can find out more about David McIlroy and his practice here.
Should you be in need of specialist and experienced mediation or wish to enquire about any of our practice areas, please contact us at 020 3735 8070 or email us at clerks@forumchambers.com.